10 Questions With Alberto Gherardi, Sommelier of Four Seasons Ten Trinity, London.
Alberto talks about his role, customer interaction, favourite restaurant, and food and wine pairing recommendations.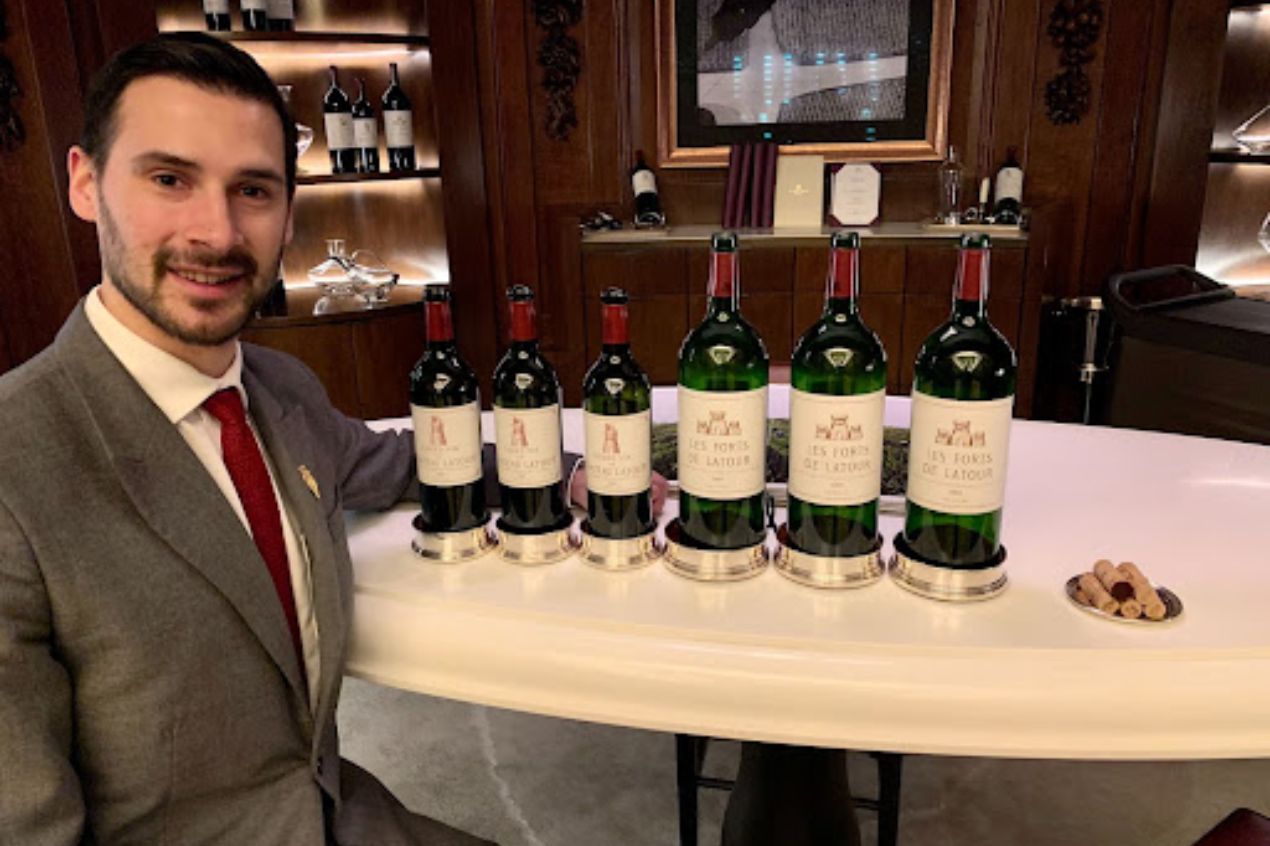 While working full-time as a sommelier at the Ten Trinity Square Private Club of Four Seasons, Alberto is currently studying the Diploma WSET in order to fulfil his dream of becoming a Master of Wine. While residing in Italy, Alberto held a sommelier position at Locanda del Capitano. He has created and kept up-to-date the restaurant's wine list with the chefs, paired and suggested wines, and made any necessary updates. In addition, he has organised staff wine tastings, instructed and trained the waiter and bartender crew, gone to wine tastings, and developed relationships with suppliers. He is also the founder and CMO of The Wine Jokers, a platform that provides classes to wine enthusiasts intending to increase public awareness of issues like wine tasting methods, variables affecting wine quality, various winemaking procedures, and more.
What is your current place of work?
Four Seasons Ten Trinity (London)
Tell us about yourself.
I am humble and ambitious, driven by curiosity and love for everything I do. I am extremely committed and organized, with a clear vision that I read every morning before having a warm coffee. This way, I always know where I am going, especially where I started and the progress I made during my journey. After graduating in economics and management, I started a sommelier course in Italy, and I realised immediately that the world of wine was about to "re-shape" my entire life. So I became an AIS Sommelier, and I have been able to turn my passion and love for wine into a rewarding profession by studying in Switzerland at the Swiss Hotel Management School.
I am currently studying for the WSET Diploma while working full-time as a sommelier at the Ten Trinity Square Private Club of Four Seasons, with the goal of becoming a Master of Wine within five years.
Why did you want to become a sommelier?
I realized wine wasn't just a beverage but a way to establish connections with people. With responsible consumption, wine has the power to trigger people's feelings and allow them to open up and be themselves. Besides, I was tired of going out for dinner and picking only wines I was familiar with. I didn't want to miss the chance.
At first, my dream was to be able to properly "decode" a wine list to base my decision on value, style, and vintages rather than just on the reputation of the brand. My knowledge has increased exponentially, and I feel accomplished when I handle a wine list with such awareness.
Any questions you would ask a customer who doesn't know anything about wine?
I usually start by asking them what they drink or fancy at home. If they don't really know anything and aren't even able to name the grape variety or style they usually go for, I try to find out what tastes they like in food. Food can bridge the gap between guests' lack of knowledge and personal taste.
Wine and food share many chemical compounds, aromas, and flavors, so relying on this aspect can be a real lifesaver with the most inexperienced guests. Do you usually use yes-or-no questions, such as "Do you like mushrooms" or "Do you like grilled meat"? If the answer is positive to both questions, the guest indirectly tells me they like "earthy" flavors. Hence, a slightly aged Burgundian Pinot Noir could be a great option. On the other hand, if I found out they like butter and lobster, I'd have a high chance of pleasing them with a "rich" buttery Puligny-Montrachet.
Regarding guests' satisfaction, I realised there are so many "foggy needs," and some guests don't know what they crave. It's our job and duty to "investigate" and look for the right answers.
What's the best part of your job?
I'd say that the best part about my job is that it is extremely "variable." Every day differs from the previous one, as you never know which guests you will meet, what you will share with them, and what bottles they will drink. There is no risk of getting bored, and you feel like part of an action movie. I truly love the "suspense" when the guest assesses the wine to understand whether they like it. At that moment, it is as if time slows down. I feel as if I can read their thoughts. A sort of "meditative" silence rises since everyone is waiting for the final verdict of the wine expert on the table. And then, hopefully, the famous "yes" arrives, which permits me to move on with the service, proud of the job I just did.
Furthermore, being a sommelier makes me feel very accomplished. As far as I can see, this figure goes way beyond being a wine server. I feel like a psychologist when I "study" my guests and what they might like. I feel like a teacher when I share the concepts I have been studying with them. I feel like I am the "voice" of the winemakers when I tell the story behind the label. And last but not least, I feel like a wizard when I try to "predict" what the future trends might be based on my guests' preferences.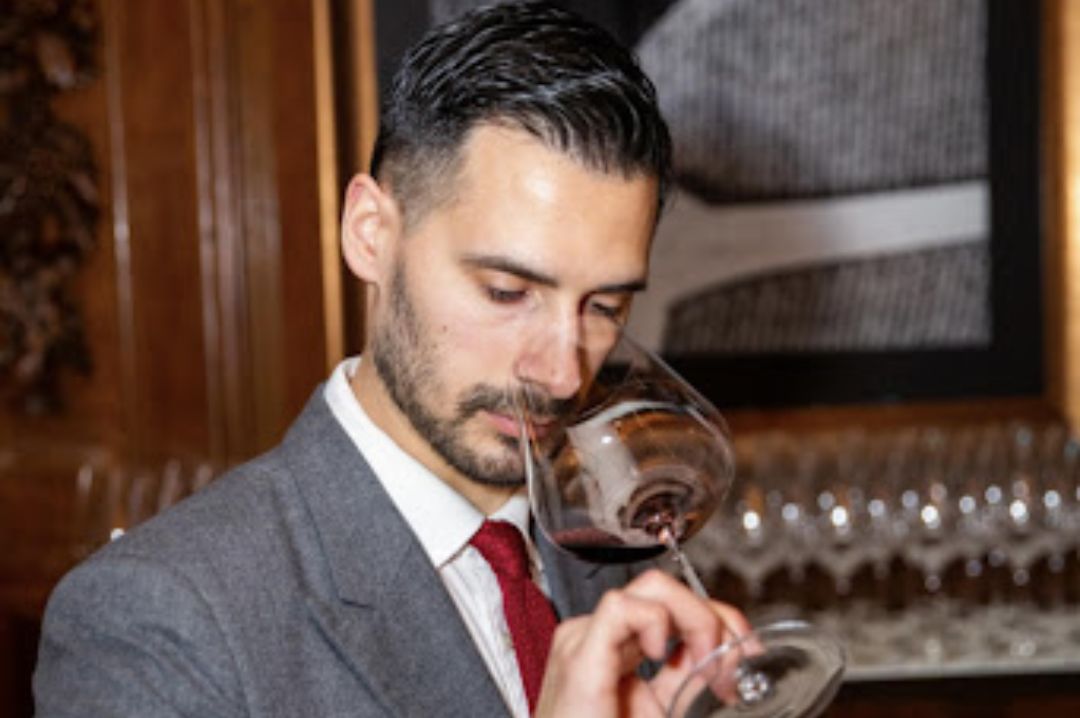 Image: Alberto Gherardi
Your favourite TV show right now?
It might sound hard to believe, but I don't even have a television at home. I simply have no time to watch it as my life is mainly about studying, working, writing articles on my website, and working out. As you might figure out, there is very little space left. I only watch movies when I have done all the duties I write weekly on my schedule.
Though, I could say that I like to pair wine with movies. For instance, I would sip a thirst-quenching and fruity Lambrusco with a comedy or a bold Châteauneuf-du-Pape with some horror. If I feel corny, I'd go for Moscato d'Asti and a romantic movie.
Name three sommeliers in the UK you like.
- Jan Konetzki for his communication skills.
- Michele Fazari for his blind tasting knowledge.
- Emanuel Pesqueira for his deep understanding of food and wine pairing.
Your favourite restaurant in London right now?
Let's start by saying that I love to try traditional places rather than commercial restaurants. Having said this, one of the best experiences I had recently, I went for a Sunday lunch at the Guinea Grill. As you enter this historical pub, you feel like travelling back in time. As you open the door, you can see the wide selection of draught beer and all the people chatting while probably enjoying a thick-foamed Guinness (for which the pub is known). Walking to the main restaurant, you can spot the counter showcasing a remarkable selection of the finest pieces of meat in the UK. Not even your trusted butcher may have that many mouthwatering cuts available at once. The tables are very close to each other, creating a very "familiar" restaurant style. The menu is straightforward, serving all the great British classics (I strongly recommend tasting their pies).
The best part? The wine list. It's a real Bible, including rare gems of 1er Grand Cru Classé and prestigious Burgundian Grand Cru wines. Considering their big collection, you might forget you are in a pub. A real delight for adventurous sommeliers looking for a traditional experience.
Any favourite food and wine pairing suggestions for London drinks enthusiasts?
Oysters Fine de Claire and Manzanilla Sherry have been the most sublime pairing I have ever had in my entire life. Like wine, terroir and variety matter in the world of oysters. And this is probably the reason that I love them so much.
Everything from salt levels to microorganisms and even mineral components of its environment affects the taste and texture. Just think how different the United States coasts are from France's rivers, let alone far down in Australia. I especially fancied this pairing because, of course, I am a huge fan of both oysters and sherry. The Fine de Claire is renowned for its saltiness, nuttiness, and "meaty" texture.
If you are a sherry lover, you already know that these terms are commonly used to describe the Manzanilla style. In San Lucar de Barraneda, humidity levels are higher than in other parts of Jerez, allowing a thicker layer of flor to form. The wine will taste dryer than a Fino (as the glycerol level will be lower), with a strong acetaldehyde character and savoury nuances. Pairing with the Fine de Claire will provide a sublime concordant match of textures and flavors.
Don't worry if you don't want to go too fancy, as the pairing with Manzanilla Sherry will perfectly work with simple olives, sun-dried tomatoes, and toasted almonds or nuts. Comfort pairings like these can make everyone's day on a lazy Sunday.
Your favourite book?
My favourite book is "Understanding Wine Technology: The Science Of Wine Explained," written by the chemist and MW David Bird. It is the most eye-opening wine book I've ever read. I recommend it to everyone serious about the world of wine. It is not a book for beginners, as the topics are specific and narrow.
I have always been curious and keep searching for answers to determine the "root cause" of everything. Thanks to that book, I understood the importance of the structural components in wine and how their "interaction" with one another will determine the balance. I fully understood the principle behind photosynthesis and how the ripening process will turn the malic acid into glucose through the process of gluconeogenesis.
This is the starting point. The "big bang" of the wine world is upon us. Therefore it is imperative to know it as far as I can see.
Header Image: Alberto Gherardi