The Keepr's of Spirits and Honey
Spirits, honey and sustainability, the three things that excite British Honey Company's Head Distiller Marzio Di Rocco the most.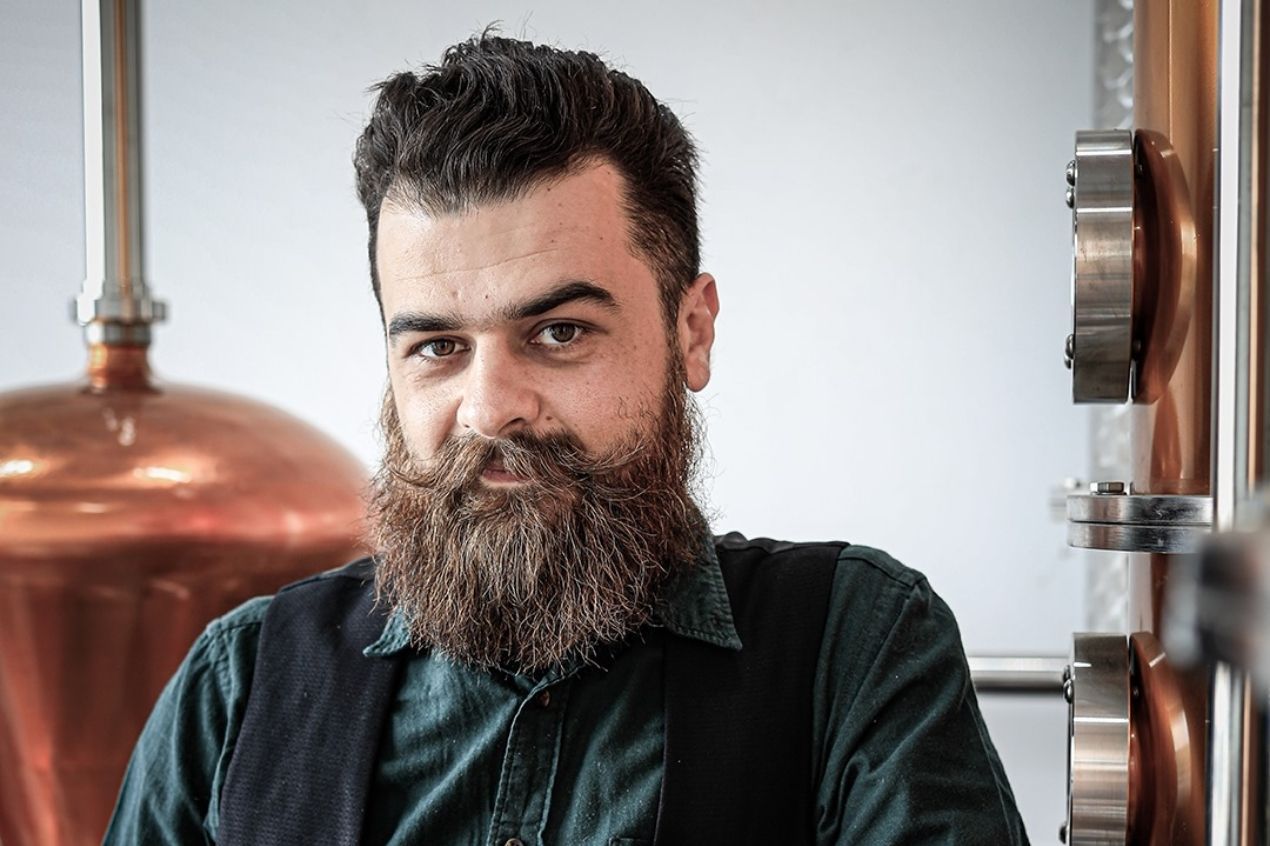 The British Honey Company is a UK based spirits and honey producer. Known for their premium and innovative products which are founded on the principles of exceptional taste and a commitment to quality and traceability, they began production in 2014. They currently produce 13 honey products and 16 spirits.
The honey and fruit-infused Keepr's spirits were the first spirits they crafted, and it was then that they moved from being just beekeepers to becoming beekeepers and distillers. Since then, the distillery has introduced multiple brands, with their core range being Keepr's, Dodd's and Two Birds. The distillery had five spirits among the winners at the 2021 London Spirits Competition.
Head Distiller Marzio Di Rocco spoke to us about their journey, how the British Honey Company is ensuring the sustainability of British honeybee and the new products he and his team are working on.
Tell us a little bit about yourself.
I'm one of two Head Distillers at the British Honey Company overseeing the production of several of our spirit brands and creating and crafting new product recipes. My distilling journey began at a vineyard and brewery in Italy, where I first became intrigued about the spirit-making process. I went on to work as a sommelier and later took my master distiller course. I'm passionate about producing spirits with natural ingredients and I'm proud of the provenance of our Keepr's spirits and the organic certification for our Dodd's gins.
According to you, what makes a great spirit?
The quality of taste must be exceptional, and the complexity of the flavours must be balanced so it's enjoyable to drink in a varied number of ways.
What would be your typical day at work?
It is hard to describe an average day as every day is different and exciting. Usually, I have a planning meeting with my colleagues in the morning, and then the adventure starts. Perhaps experimenting with new ingredients and flavours, or meeting with white label clients to taste and discuss products and distilling, of course!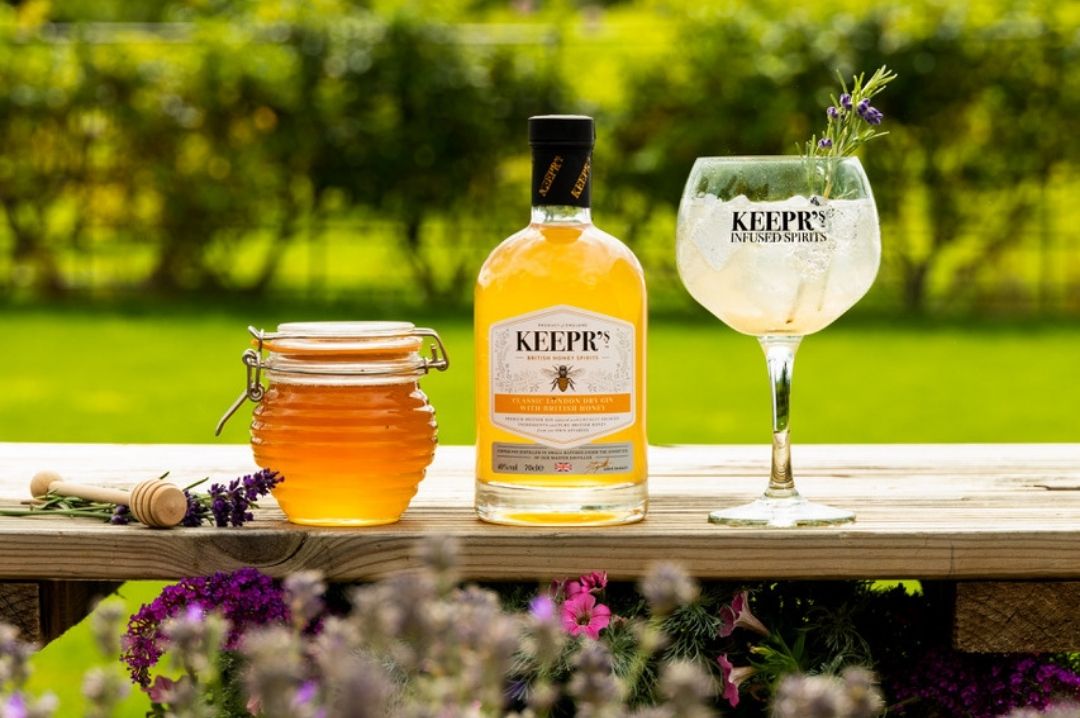 Keepr's Honey Gin, Source Facebook
How often are you firing up the stills and how long does a batch take?
We usually distil three times a week with the distillation taking about six to eight hours depending on the products. We start in the morning and upon finishing, we clean the still and charge it with botanicals for the next day to let them macerate overnight. This happens more during seasonal or busy times of the year when we are distilling round the clock.
What excites you the most about your brand?
I love developing new innovative products, playing around with new flavours and concepts. I'm passionate about producing quality British products made with natural and ethically sourced ingredients. The fact that these values are core to our brand is appealing to me.
What spirits do you consider your flagship spirits and why?
We have several brands, so it would have to be our Honey Gin, Honey Spiced Rum and Smoked Honey Bourbon from our Keepr's range. Our ultra-premium Dodd's Organic Gin and the sensational flavours of Two Birds Spirits, such as its Watermelon Gin or Pink Grapefruit and Pomegranate Gin.
Are you working on something new right now?
We have an exciting new product range coming from our Two Birds Spirits collection. We are looking to develop our flavoured rum offerings as it is fast becoming the preferred spirit for many. There is also a special release coming for the Keepr's range which has been three years in the making. I am super excited about this and can't wait to see what people think.
Where can we find your products?
All our products can be found on our website. You can also buy them on Amazon, Not on the High Street, Master of Malt, Virgin Wines, Ocado, English Heritage shops to name a few. Our products are also available in many restaurants, bars, delis, and garden centres.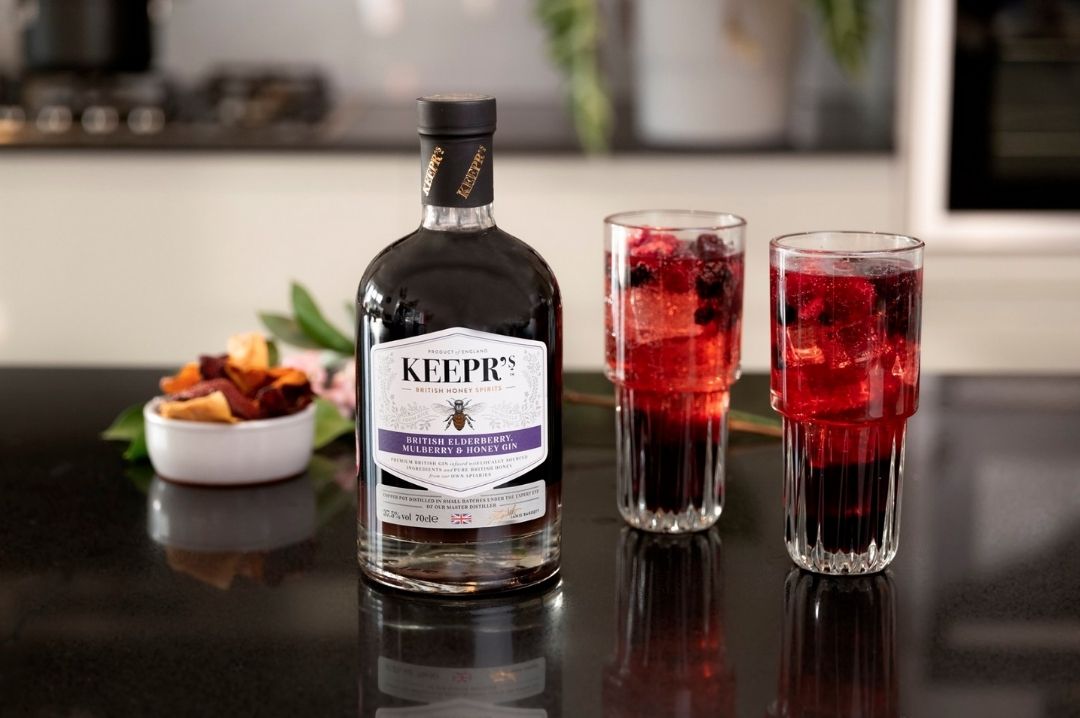 Keepr's British Elderberry Gin, Source Facebook
Do you have a distillery tour/tasting room experience set in place? What can guests expect from it?
We are opening a new high-end whiskey distillery at the historic Tusmore Estate in Oxfordshire in 2022. The estate is already home to our 250 Keepr's beehives, and in addition to the distillery, there will be a discovery centre, gin school, beehive experience, bar and shop for guests, so they can experience our spirits and learn about their provenance.
What are some of the spirits you have on your shelf?
Well, I have two favourite spirits and it is difficult to pick just one of the two. Keepr's Honey gin is great, I love to sip it over ice after dinner. Dodd's Gin is perfect for cocktails. It is organic which is great for the quality of the spirit and the botanicals.
What's your favourite cocktail to make with your spirits?
A Dry Gin Martini with a lemon zest that's usually made with Dodd's. I will drink it before dinner on a special occasion. Or a Sweet Manhattan usually made with Keepr's Smoked Honey Bourbon for a bit of smokiness.
Lastly, what are you drinking right now?
I've been experimenting with our new English Heritage Organic Gin. It's perfect as a gin and tonic served with a slice of lemon or a sprig of rosemary.
Header Image- British Honey Company, Source Facebook