The Best Oktoberfest Parties you can Attend in London
Looking for an excuse to celebrate an evening of German merriment? Grab a stein and a giant sausage at these Oktoberfest parties in London.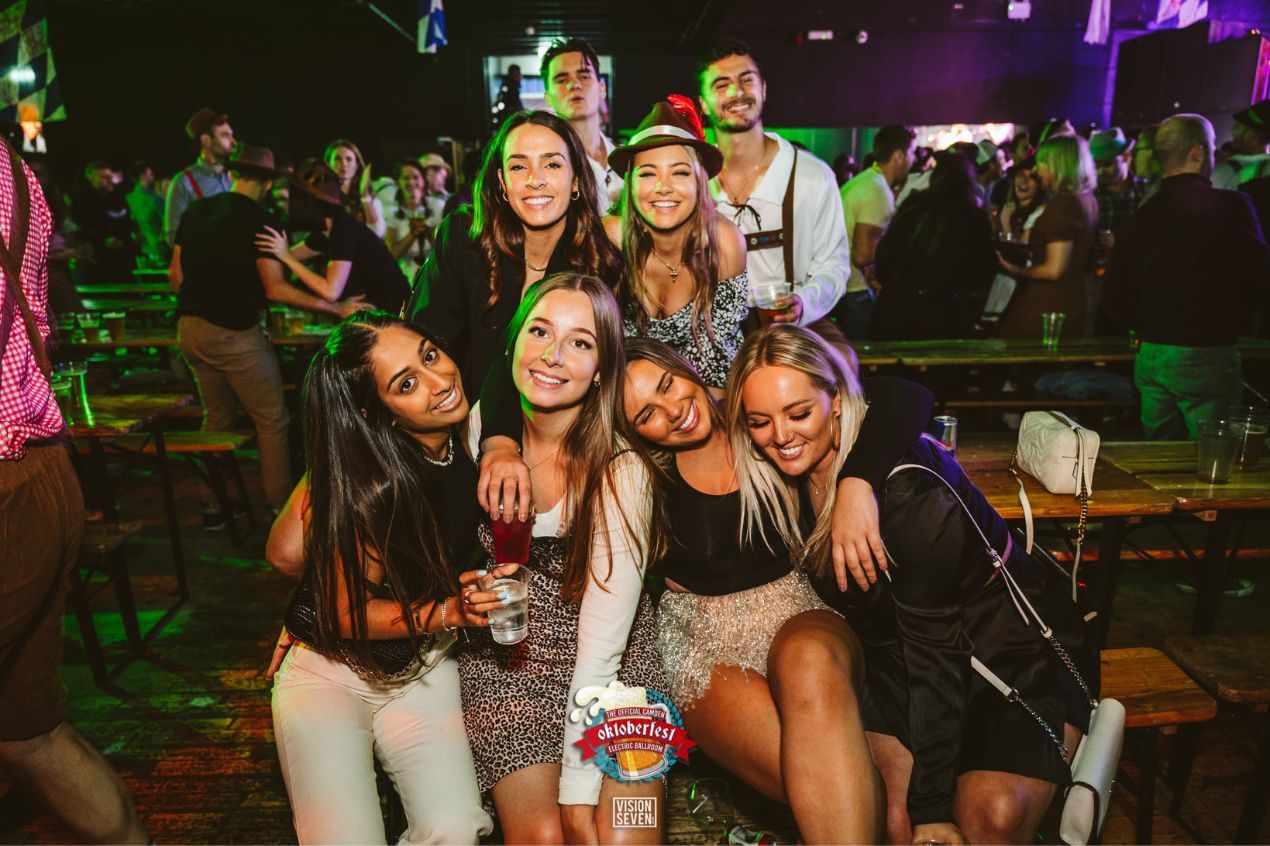 Fill the steins! Munich's world-famous beer festival has returned after a two-year break, but you don't have to go all the way to Germany to enjoy a lederhosen-clad knees-up. Oktoberfest is in full swing in London, complete with large steins of beer, platters of overly lengthy wurst, and loud oompah bands blowing brass like they don't give a schnitzel!
Whether you want a traditional beer hall or wild table dancing, classic Bavarian beers, or east London craft IPAs, you can find your perfect Oktoberfest in London. Throughout the month, the best brewers in the city adore organizing good old knees-ups to celebrate German beer and Londoners enjoy going to them.
It can be difficult to navigate through all of the parties, but don't worry - we've compiled a list of the trendiest Oktoberfest events taking place this year for you. You're welcome!
The Bermondsey Bierkeller
1st September – 31st October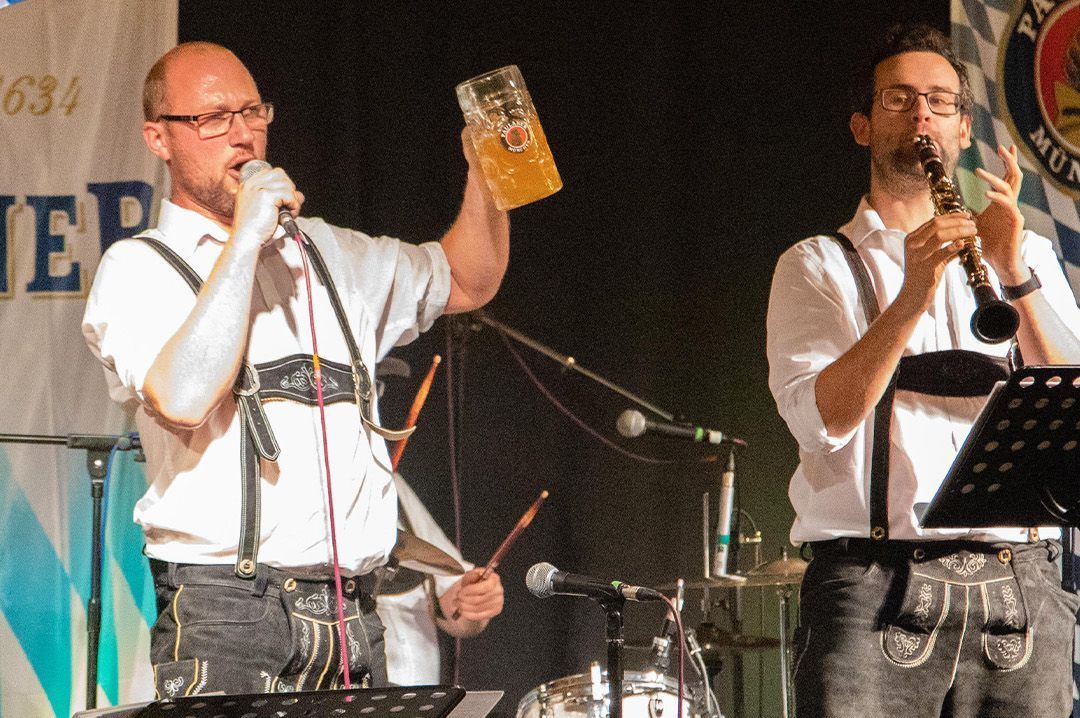 Image Source- The Bermondsey Bierkeller
You won't be able to make it to Munich for Oktoberfest? No need to get all FOMO! Munich has arrived in London at The Bermondsey Bierkeller, London Bridge. With oompah bands, live DJs, a games hall, and, of course, traditional German beer and hearty street cuisine, the atmosphere will be as real as it gets.
You can choose among six German beers on tap, including the Hacker Pschorr Munich Gold, which follows the Reinheitsgebot (the strict beer purity law), and the venue's own brew, the Bermondsey Bravo.
Book your tickets HERE
Address:
2-4 Tooley Street, London, SE1 2SY
Between the Bridges' Oktoberfest
23rd September - 1st October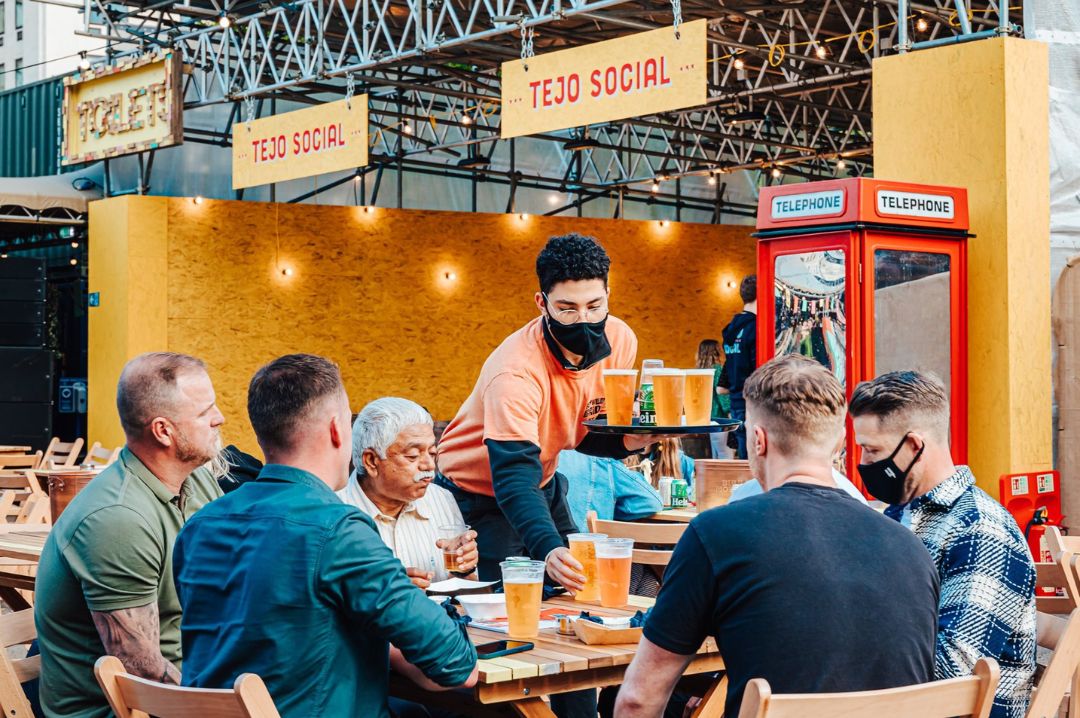 Image Source- Between the Bridges' Oktoberfest
This year, Between the Bridges is holding a fantastic Oktoberfest in London, and they're providing all the beer and sausage you might possibly need. Between the Bridges is celebrating Oktoberfest with two weekends of boozy fun at its brand-new venue The Pier.
The karaoke phenomenon Massaoke, tweed-clad ten-piece brass crew the Old Dirty Brasstards, and resident DJs Guilty Pleasures will play the music while you fill your stomach with Teutonic street cuisine and neck frothy two-pint steins, the first of which is included in the entrance fee. After a couple of those, you'll be roaring out more Klassiker. Come hungry and chow down on a bratwurst or two!
Book your tickets HERE
Address:
Between the Bridges
The Queen's Walk, London SE1
Wunderbar Oktoberfest at Pergola Paddington
30th September – 30st October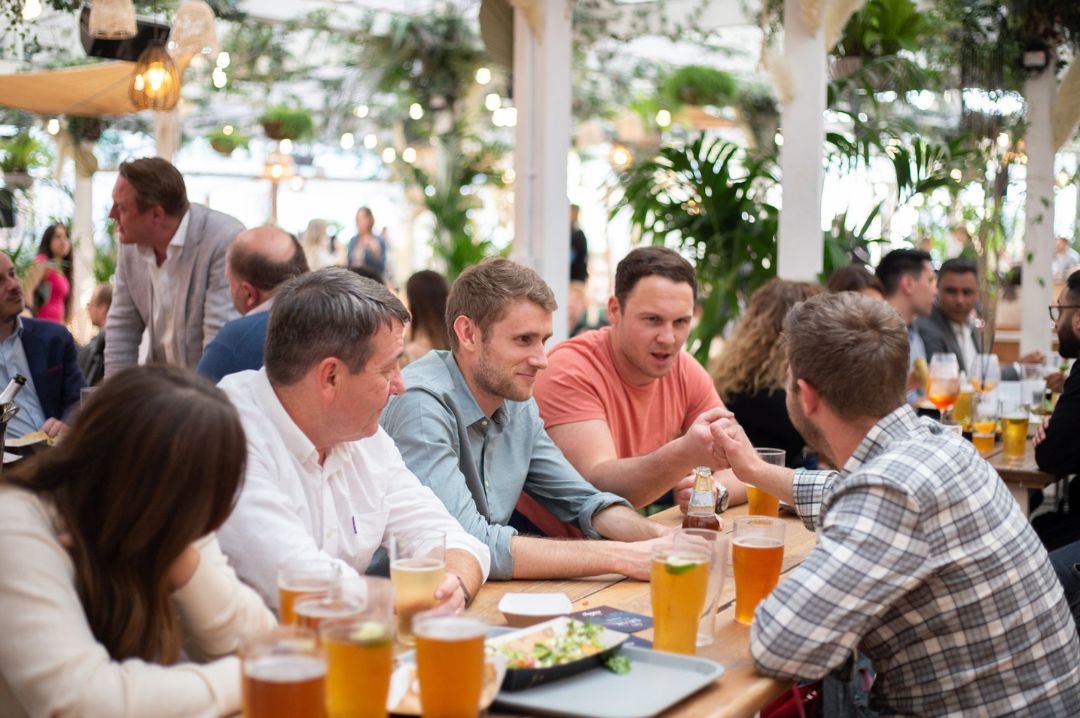 Image Source- Wunderbar Oktoberfest at Pergola Paddington
Pergola Paddington is one of the London venues that knows how to party. The gorgeous rooftop will be turned into a Bavarian beer hall this autumn, complete with garlands, streamers, flags, and barrels. You are encouraged to wear a fancy dress as there are daily prizes that you can win.
While you can sit with your stein, you will find it difficult to stay there as numerous oompah bands and DJs keep the crowd moving. Drink Wunder Beer, a Camden Town Brewery made beers specially for this occasion, and enjoy excellent German food. There are specialized beer booths for groups of up to 20, while the remainder of the area is open to walk-ins. With each ticket, you will get a beer or a beer cocktail.
Buy your tickets HERE
Address:
4 Kingdom Street, London, W2 6PY
Craft Oktoberfest London
14th - 16th October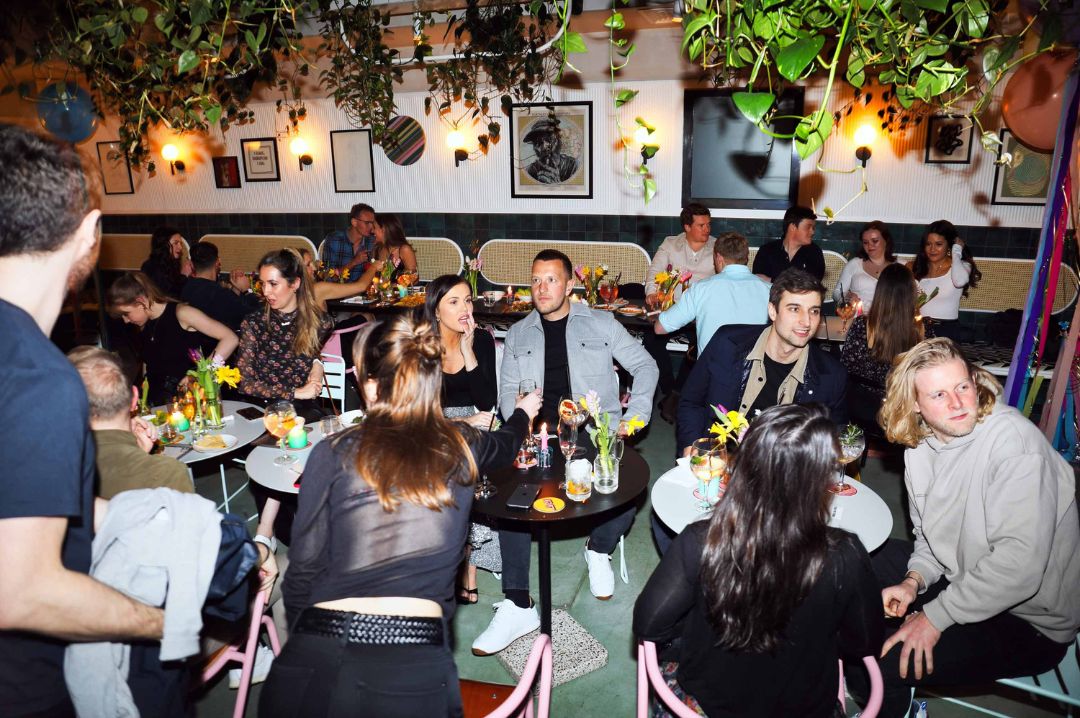 Image Source- Craft Oktoberfest London
Kraft Brewery, the taproom in Mercato Metropolitano in Elephant and Castle, is hosting its second Oktoberfest. This free party, held within the larger market space, is quickly emerging to be quite the event, with the organizers increasing capacity to meet last year's demand.
They guarantee that there will be 'no dark circus tents, no plastic 'steins,' no cheap fancy dress city boys, no costly tickets, no VIP areas, but only amazing independent beer.' This event is for real beer lovers, with a number of small breweries teaming together to provide a selection of delicious drinks to South London's party crowd. There will be bratwurst, pretzels, and a band, of course. This Oktoberfest theme is a modern take on Germanness that goes beyond the conventional Oompah Bavarian Village vibe. You can even enjoy two of their new releases Amber Oktoberfest Lager and Dry Hopped Doppel Pils.
Tickets are free and you can book them HERE
Address:
Inside Kingsland Locke,
130a Kingsland High Street, Dalston, London E8 2LQ
Camden Oktoberfest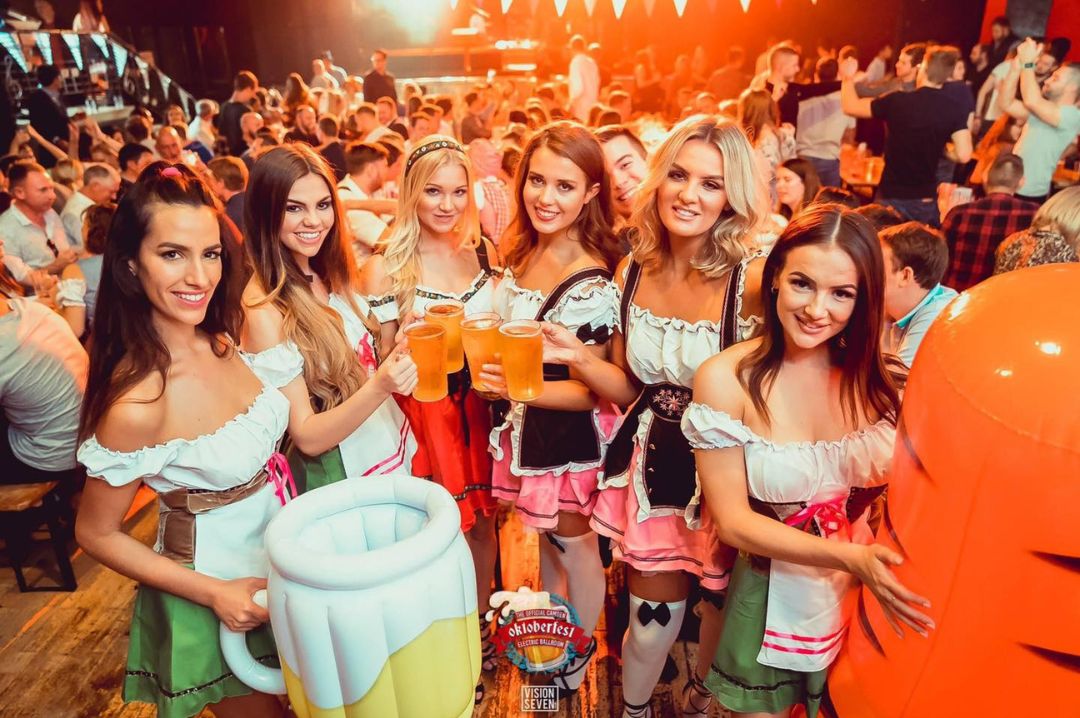 Image Source- Camden Oktoberfest
Always longed to go to Oktoberfest, don your best lederhosen, and sink steins, but couldn't bring yourself to travel to Munich? Let Oktoberfest come to you in October as it takes over Camden's Electric Ballroom. On Saturdays, October 1st, 8th, 15th, 22nd, and 29th, the region's largest Oktoberfest will take over this historic site for daytime sessions from 2 pm to 9 pm.
You can enjoy the night with live brass bands and DJs, as the space is entirely decorated like a Bavarian beer hall complete with classic beer tables, Oktoberfest bunting, and miles and miles of authentic German Bratwursts. Prost! The delicious beers come from all over Germany and are supplied by Spaten, Löwenbräu, and Becks, so you can anticipate only the best Bavarian brews.
Book your tickets HERE
Address:
Electric Ballroom
184 Camden High St, London, NW1 8QP
Written by Aparna Dutta, Beverage Trade Network
Header Image Source: Camden Oktoberfest