Where to grab a drink at Heathrow International Airport
Take a trip through the best restaurants and bars in Heathrow Airport and let your taste buds fly.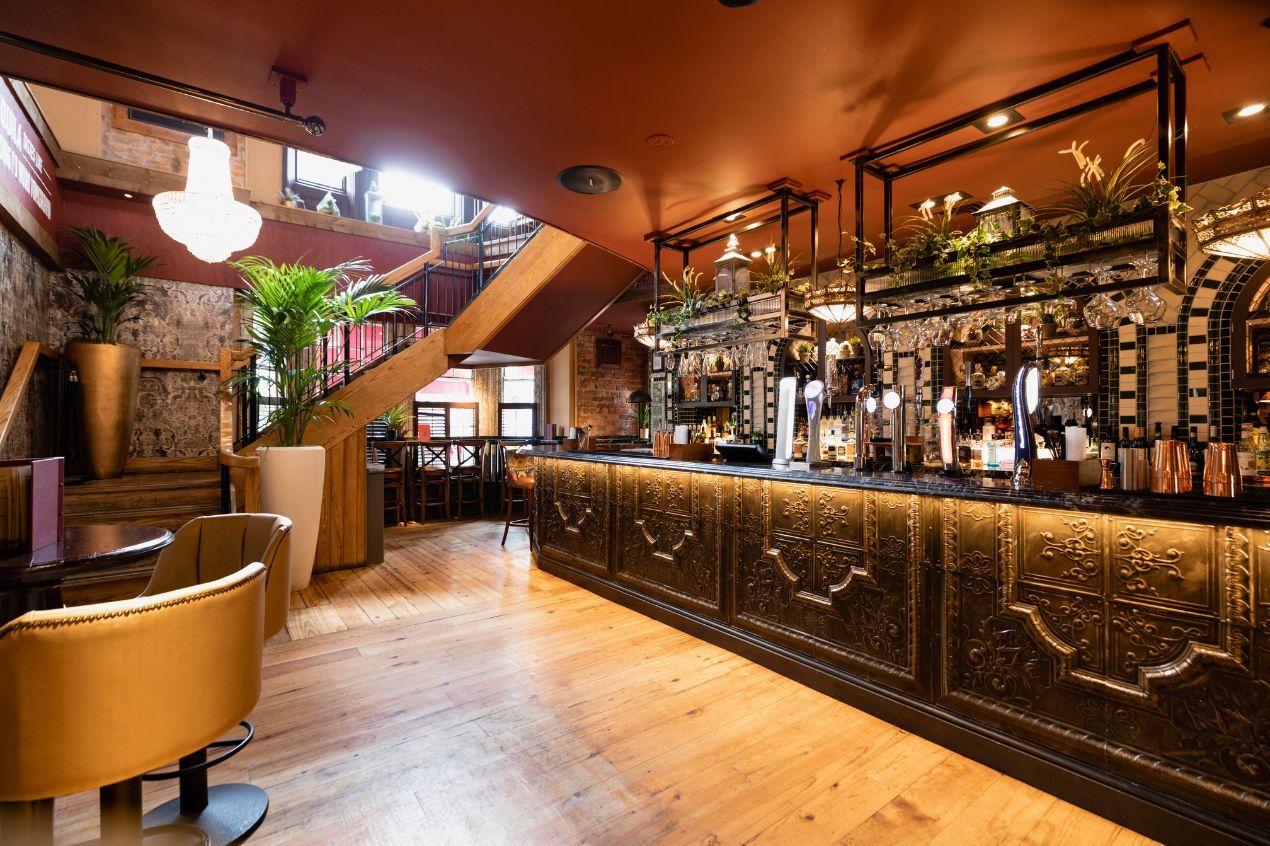 Want to take a break at the busiest airport in the world? London's Heathrow International Airport is built for the hungry. Heathrow's restaurants range from classy to quick to pub. Like London itself, you can find pubs with traditional English bar food and beer everywhere you look in Heathrow. The airport has teamed up with various restaurants and bars for you to grab food and drinks and fly. You can pre-order your food & drink from the Heathrow app and relax before flying.
Big Smoke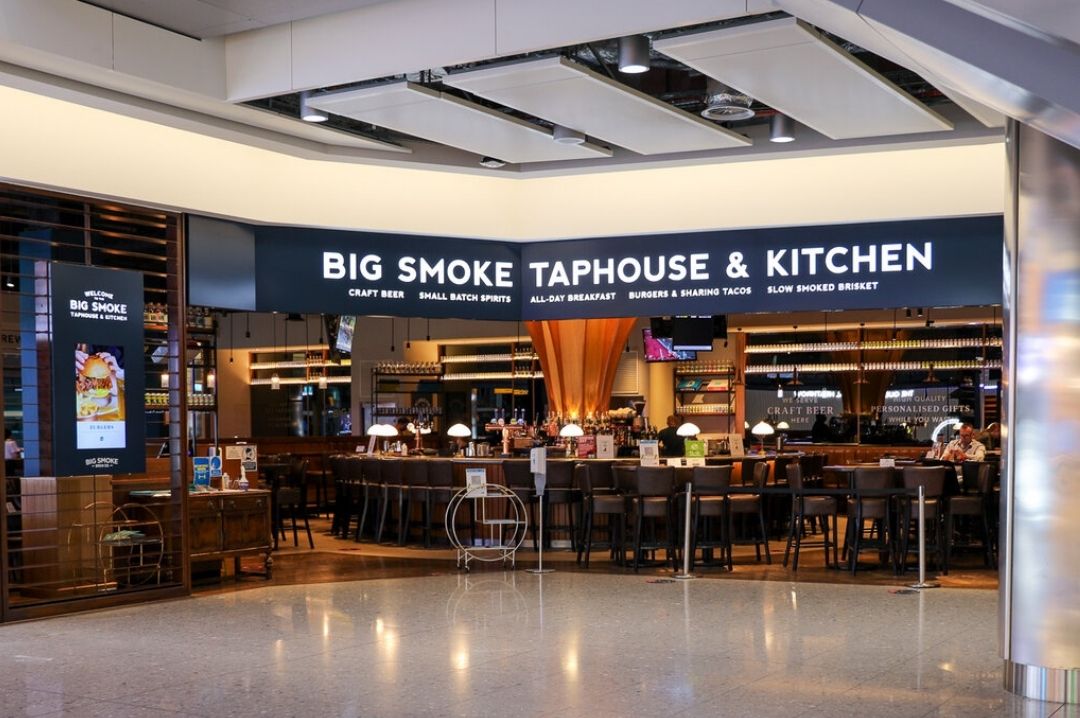 Big Smoke Taphouse & Kitchen, Source: Website
The Big Smoke Taphouse & Kitchen represents everything that we love about a modern public house. They have a great range of beers from their very own Big Smoke Brew Co. to other mainstreams such as Budweiser, Corona and Stella Artois. You can expect a full English breakfast all day, great burgers, slow-cooked ribs, meat sharers, DIY tacos and wholesome salads. Big Smoke also has a separate kids menu for those who are travelling with children. . Layoff here for some freshly prepared food, great beers, fantastic wines, comfortable surroundings and a friendly welcome.
Where - Heathrow Airport Terminal 2, The Queen's Terminal Airside, Hounslow, TW6 1EW, England
The Crown Rivers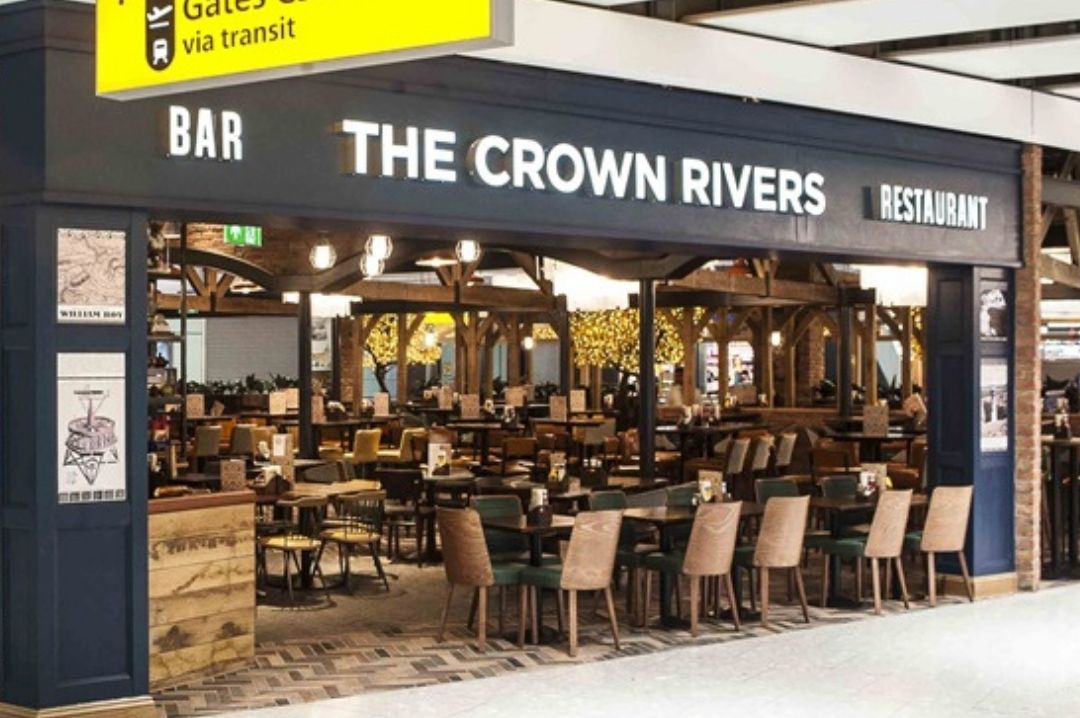 The Crown Rivers by Wetherspoon, Source: website
Established in 1979, the pub was called Martin's Free House, later in 1980, it was renamed Wetherspoons. The Crown Rivers is part of the Wetherspoon pub chain and is located after security in terminal 5. The pub marks its 42nd anniversary and is featured in The Good Beer Guide by CAMRA. The Crown Rivers offers a vast variety of drinks ranging from beer, gin, vodka, rum, whiskies to low & alcohol-free beers. The menu features British pub classics (like bangers and mash and fish and chips), as well as lighter bites, such as paninis and small plates. Many stick to the burger menu or the freshly baked pizzas.
Where - after security, Terminal 5, Wallis Rd, Longford, Hounslow TW6 2GA, United Kingdom
London's Pride by Fuller's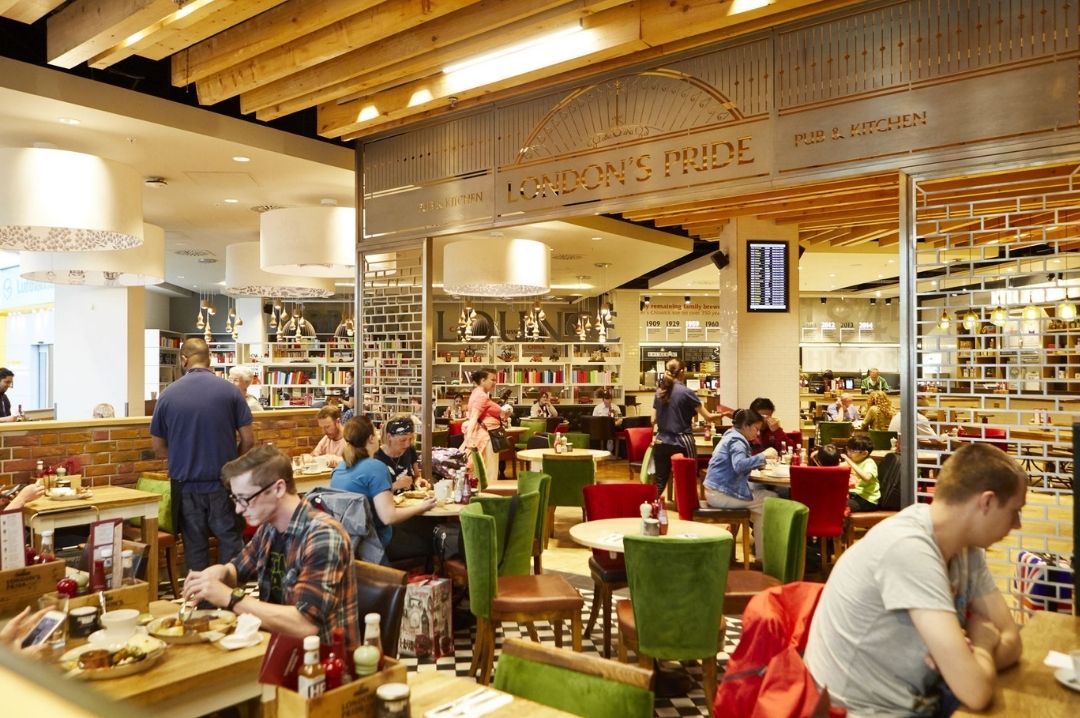 Fuller's London's Pride Pub & Kitchen, Source: website
Fuller's pubs are renowned for outstanding cask-conditioned ale, but their drinks range extends far beyond beer. With a constantly changing drinks menu, you'll always be able to try something new and interesting whether it's a craft lager like Fuller's London Pride, Frontier, Oliver's Island, or seasonal ale, cider, spirits, artisan soft drink, or one of their exclusive wines. The menu includes their national favourites like fish & chips, steak & ale pie and sausage & mash. There are salads and sandwiches too, plus tasting platters and sharing dishes that make dining a more social affair.
Where - Heathrow Airport, Queens Terminal, T2 Airside, London TW6 1EW, United Kingdom
Wondertree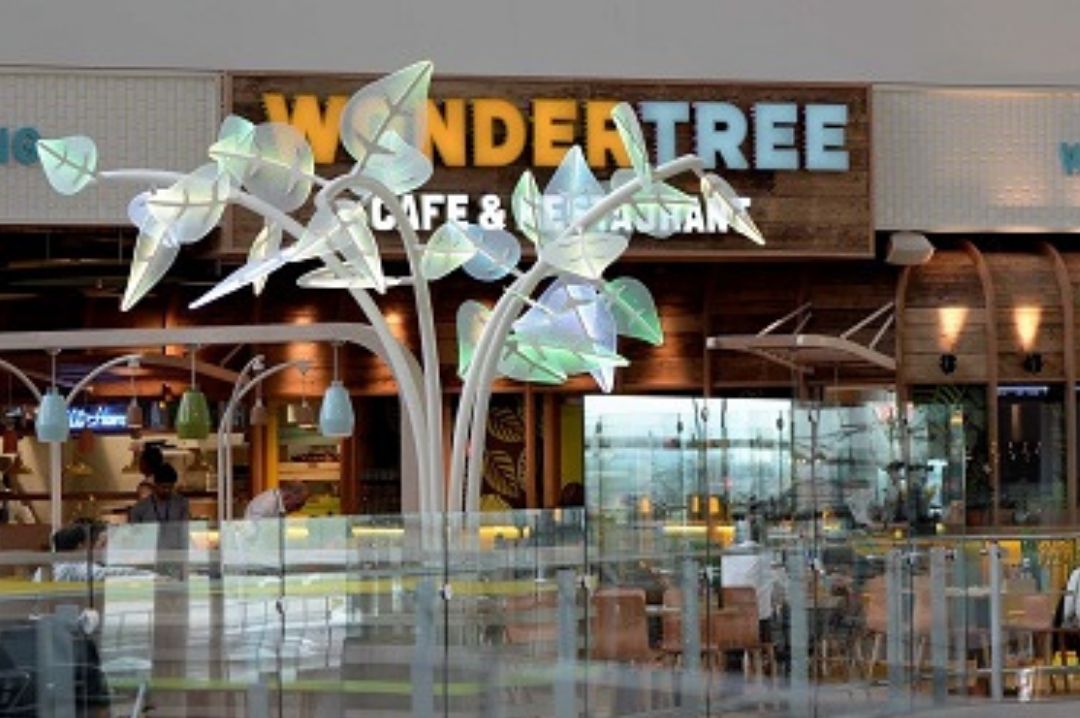 Wondertree and its 8-foot colour changing Tree, source: hospitalityandcateringnews.com
Wondertree is one of the brands of The Restaurants Group plc, located at the airside of Terminal 2. TRG Concessions has 70 high volume restaurants, bars, coffee shops and pubs, with over 30 brands across the UK's airports & train stations and thus makes them the market leader of hospitality brands. Head onto this place for beef burgers and sip on beer till your flight arrives. Their attraction is Wondertree's 8-foot colour-changing trees that glitter across the terminal.
Where - Heathrow Airport, Terminal 2 Airside: The Queen's Terminal, Hounslow TW6 1EW, United Kingdom
Giraffe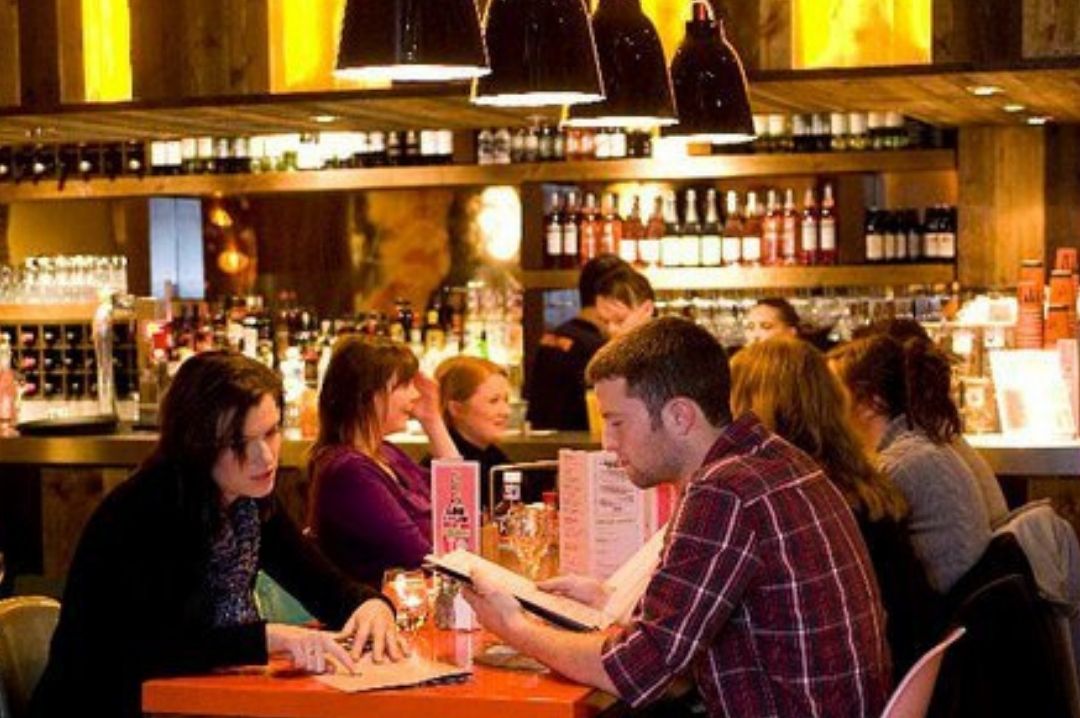 Inside sitting area at Giraffe, Source: Facebook
Giraffe owned by Giraffe Concepts Limited is situated at Terminal 5. The place is supported by The Restaurants Group plc and is best for exploring food and music from around the world. Giraffe has a long listed menu for all types of people who like to drink. The drinks menu extends from beers like Corona, Peroni to wines like Central Monte Merlot, Inkosi Chenin Blanc. If you are a cocktail lover just pop in to try their house special like Smokey Cuban (Havana 7-year-old, triple sec, topped with ginger ale), Spiced Punch (Havana Cuban spiced rum, pineapple juice, guava juice, orange juice and a dash of lime) and many more.
Where - Terminal 5, Heathrow Airport, London, TW6 3XZ
Gordan Ramsay Plane Food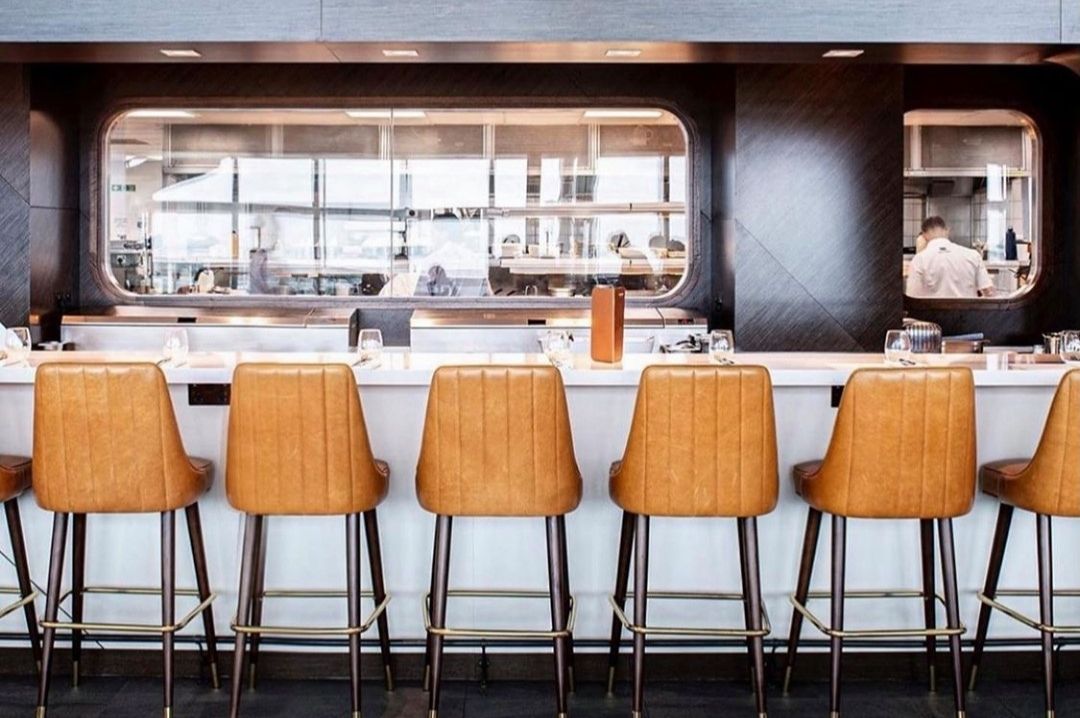 Open bar at Gordan Ramsay's Plane Food, Source: Instagram
Plane Food offers travellers a unique dining experience before their onward journey out of London. The restaurant is designed with an open kitchen so guests can watch their food being prepared. Plane food also sports a separate cocktail bar, and ample seating, all with fantastic views of the runway. The menu combines European and Asian flavours and includes dishes such as quinoa salad with hazelnuts, miso and shimeji ramen, roasted Atlantic cod, and butter chicken curry. Take your time over the À la carte menu, enjoy an early breakfast and sip a cocktail from their house classics such as Manhattan, Whisky Sour, Espresso Martini and many more.
Where - Terminal 5, Heathrow Airport, Wellington Rd, London TW6 2GA, United Kingdom
Prince of Wales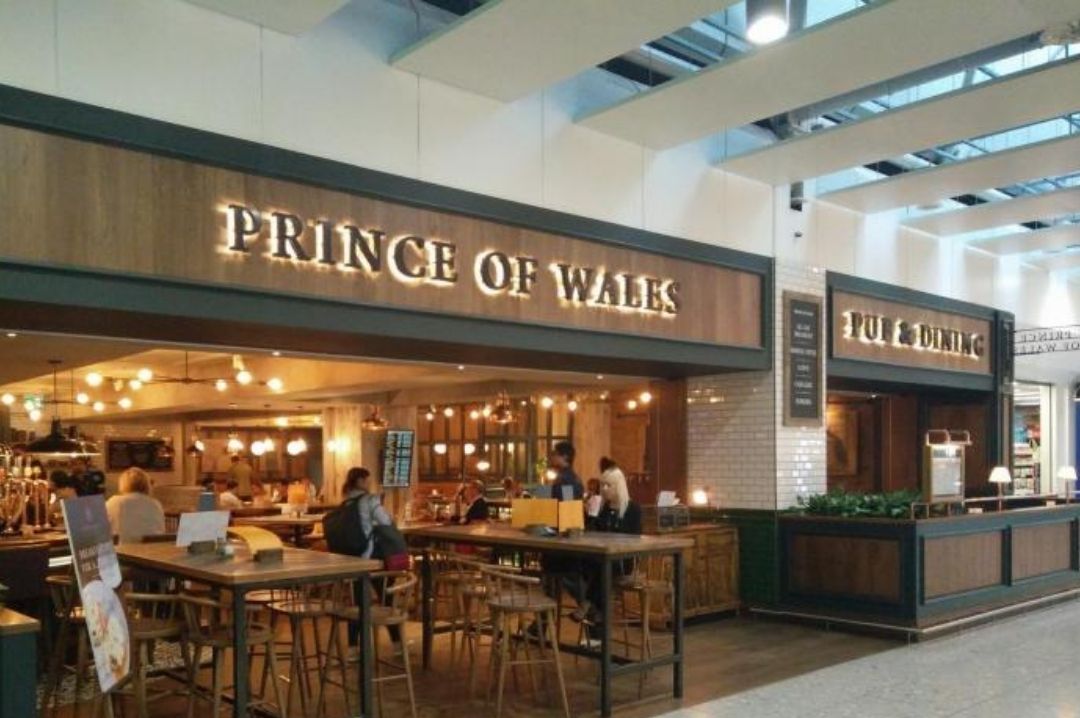 Prince of Wales Pub & Dining, source: Whatpub
If you're looking to kill time with a pint in hand, the Prince of Wales on Terminal 4 is the place to be. The 'beats only' music will make you feel like you're actually sitting in a pub on the streets of London. The place offers all the English breakfast and has vegetarian options as well. Till your flight arrives, you can sit back and have a sip of Golden IPA made from their very own brewhouse - The Prince of Wales. Other than this you can also order beers from Fuller's Brewery and glance at the runway view.
Where - Terminal 4 Airside, Heathrow Airport, TW6 3XA
Header image, Source: Dollar Flight Club